BIO Nina R. Horan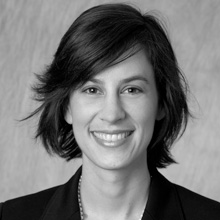 Contact
212-509-8878
nina@byrnepoh.com
Admissions
United States Court of Appeals for the Federal Circuit
United States District Courts (S.D.N.Y. and E.D.N.Y.)
State Courts of New York
United States Patent and Trademark Office
Education
New York Law School, Juris Doctor, 2003
Princeton University, Ph.D., 1999
Princeton University, M.A., 1995
Boston College, B.S. Biochemistry, 1993
Nina R. Horan is Counsel at Byrne Poh. Nina's practice is focused on: preparing and prosecuting patent applications; counseling clients on issues related to patent portfolio strategies, life cycle management and competitive landscapes; providing opinions on patentability, invalidity, non-infringement and freedom-to-operate; performing due diligence on patent portfolios; and providing pre-litigation advice. In her practice, Nina has handled a wide range of technologies in the fields of chemistry, small molecules, organometallic chemistry, catalysis, pharmaceuticals, biotechnology, cosmetics, food products, automotive care and materials science.

Prior Legal Experience
Ropes & Gray / Fish & Neave (now part of Ropes & Gray),
New York, NY, Patent Agent/Associate 1999-2009

Scientific Experience
Nina received her doctorate in organic chemistry from Princeton University where, under the guidance of Daniel E. Kahne, she studied carbohydrate-protein interactions using various model systems for cell surfaces. As part of her graduate studies, Nina studied protein binding to carbohydrate-derivatized surfaces in collaboration with George M. Whitesides at Harvard University.

She earned a bachelor of science degree in biochemistry from Boston College, where she conducted research on zirconium catalyzed reactions in the labs of Amir H. Hoveyda. Nina's scientific experience includes organic chemistry, carbohydrate chemistry, combinatorial chemistry, biochemistry, biophysical chemistry, surface chemistry and organometallic chemistry.

Publications
Horan, N., Yan, L., Isobe, H., Whitesides, G.W., Kahne, D., "Nonstatistical Binding of a Protein to Clustered Carbohydrates," Proc. Natl. Acad. Sci. USA 1999, 96, 11782-11786.

Liang, R., Loebach, J., Horan, N., Ge, M., Thompson, C., Yan, L., Kahne, D., "Polyvalent Binding to Carbohydrates Immobilized on an Insoluble Resin," Proc. Natl. Acad. Sci. USA 1997, 94, 10554-10559.

Liang, R., Yan, L., Loebach, J., Ge, M., Uozumi, Y., Sekanina, K., Horan, N., Gildersleeve, J., Thompson, C., Smith, A., Biswas, K., Still, W.C., Kahne, D., "Parallel Synthesis and Screening of the First Carbohydrate Library," Science 1996, 274, 1520-1522.

Houri, A.F., Didiuk, M.T., Xu, Z., Horan, N., Hoveyda, A.H., "Zirconium-Catalyzed Ethylmagnesation of Hydroxylated Terminal Alkenes: A Catalytic and Disateroselective Carbon-Carbon Bond-Forming Reaction," J.Am.Chem.Soc. 1993, 115, 6614.