BIO Arthi Srinivasan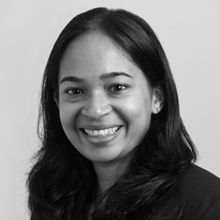 Contact
212-509-8875
asrinivasan@byrnepoh.com
Education
University of Southern California, Ph.D. Biomedical Engineering, 2012
University of Southern California, M.S. Biomedical Engineering, 2008
California Institute of Technology, B.S. Electrical Engineering, 2006
Arthi Srinivasan
joined the firm in 2013 as a Technical Specialist.
Arthi's practice focuses on patent preparation and prosecution, preparing opinions of counsel, and due diligence in the areas of biomedical engineering, electrical engineering, and software.
Prior to joining the firm, Arthi was a Post-Doctoral Associate at SUNY Downstate Medical Center working on Brain-Machine Interfaces, with a focus on providing somatosensory feedback to the brain via microstimulation.  Arthi aided in testing an adaptive controller which calculates optimal electrical stimulation patterns to reproduce natural touch sensations.
Arthi completed her Ph.D. at the University of Southern California (USC).  Her dissertation involved developing and testing novel electrical stimulation methods (such as current steering and current focusing).  Arthi's work showed that current focusing can improve cochlear implant users' speech perception in noisy environments. She also implemented a computational model which aided in explaining differences in performance across cochlear implant users.
Prior to that, Arthi was a Research Assistant at USC and was involved in a joint project between the Doheny Eye Institute and the Jet Propulsion Lab.  The aim of the project was to use a hyperspectral snapshot camera to image the retina and calculate oxygen saturation levels in normal and pathological conditions, with the goal of diagnosing various disease conditions based on the images.  Arthi aided in implementing an algorithm which processed the hyperspectral cubes using parallel computing techniques and subsequently computed oxygenated and deoxygenated hemoglobin levels based on absorbance values in the spectral data.